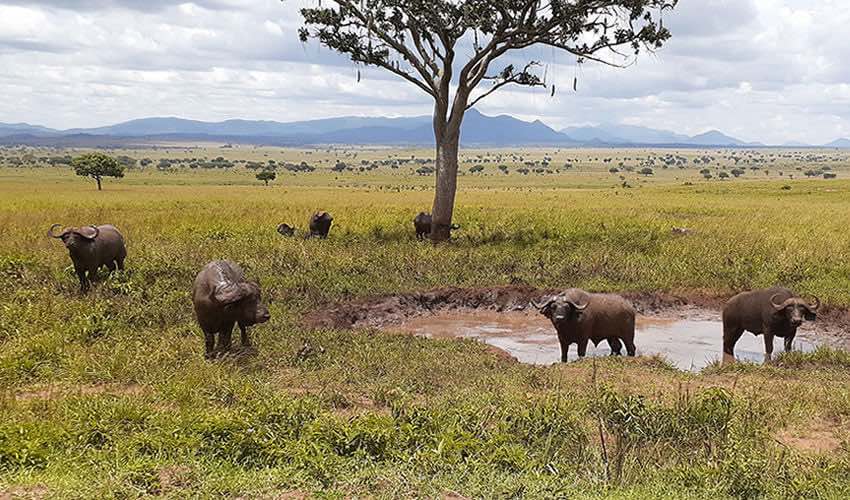 5 Good Reasons Why You Should Visit Uganda's Kidepo National Park
Kidepo is a national park in Uganda that is known for its spectacular landscape and diverse wildlife. The park offers a unique safari experience and is a great place to see a variety of animals in their natural habitat.
……………………………….
Kidepo Valley National Park is one of the most beautiful and majestic places on earth. This national park is located in Uganda and encompasses an area of 1,442 kilometers.
It is home to a variety of wildlife species, including lions and elephants. If you're looking for an unforgettable experience, Kidepo Valley National Park is the perfect place for you.
Here are five reasons why you should visit this wonderful place:
……………………………….
Where is Kidepo National Park?
Kidepo Valley National Park lies in the northeastern part of Uganda, near Karenga in Kaabong District.
By road, the park lies about 220 kilometers (140 miles) northwest of Moroto, the sub-major region's town.
It's about 520 kilometers (320 miles) northeast of Kampala, Uganda's capital and largest city, on the road.
The park's northern perimeter runs along the international border with South Sudan's Bira and abuts the Kidepo Game Reserve.
……………………………………
5 things to do and see in the park
The 1,442km2 Kidepo Valley National Park was established in 1958 and is located in the mountainous, semi-arid lowlands between Uganda's borders with Sudan and Kenya.
It is Uganda's most remote national park, and many who have visited agree that it offers Africa's best wildness.
It is home to 475 bird species and 77 animal species. Some of the best things to do in Kidepo Valley National Park are listed below;
Safari Game drives
Safari game drives are one of the most popular activities in Kidepo Valley National Park. They can happen in the morning, midday, or evening.
Game drives are guided and can be done in a 4 x 4 safari vehicle or on foot with an armed ranger guide from the Uganda Wildlife Authority.
The main attractions that draw travelers to Uganda safaris are game drives. Lions, elephants, buffalo, zebras, jackals, warthogs, and several varieties of antelopes, including the exquisite klipspringer, can all be spotted during game drives at Kidepo.
Bird Watching
One of the most popular activities in Kidepo Valley National Park is bird viewing. The park is home to approximately 475 bird species, with more still being discovered by people that visit the park for bird viewing.
Visitors on our bird-watching safaris in Kiedpo Valley National Park will view the magnificent sterling, Ostrich, Abyssinian Roller, Purple Heron, Abyssinian Ground Hornbill, and Clapperton's Francolin, which can only be found here.
The list of numerous bird species is endless. Apoka Rest Camp, Narus Valley, and Namamukweny all have a variety of birds that can be viewed in the mornings and evenings.
………………………………………………………..
Cultural activities
Local settlements of the Karamajong and IK people surround the park. As a result, visitors to this wilderness national park might add a cultural trip among the top Kidepo Valley National Park activities.
The Karamajong and IK are similar to the Masai of Kenya, and a cultural tour of these people with the Lorukul Cultural Group or other cultural groups bordering the park will allow you to learn about their distinctive culture.
………………………………………………………..
Kidepo Valley National Park offers hiking and nature walks
In Kidepo Valley National Park, hiking and nature hikes are other popular pastimes. Hikes and treks will lead you to the Lomej Mountains, which are accessible by foot.
The hike begins at 7 a.m. and lasts four hours. Shorter guided excursions of about two hours can be done in the Narus Valley, which stretches for 5 kilometers around Apoka Tourism Centre.
Visitors on Uganda Wildlife safaris in Kidepo can also walk along the lovely Kidepo River Valley, which runs between the banks of a beautiful borassus palm forest, or the Namamkweny Valley, which is only an hour away from Apoka.
Hiking to the IK is also an option for visitors to Kidepo Valley National Park.
Visitors to Kidepo Valley National Park can also join the IK tribe on a trip to the Morungole Mountains, which are located outside the park. This hike must be planned ahead of time.
………………………………………………………….
River Kidepo
The Kidepo River does not appear to be a river when visiting the national park during the dry season. Rather, it's a 50-meter-wide bed of white sand that spreads on both sides as far as the eye can see.
Borassus palms and the remnants of the wet season's vegetation line the riverbeds. During the park's two brief rainy seasons, the Kidepo River fills up and serves as a haven for the park's diverse wildlife.
If you visit Kidepo during the dry season, you can camp in the riverbed with the help of your tour operator and the UWA rangers.
………………………………………………………..
The best time to visit Uganda's Kidepo National Park
The Kidepo Valley National Park is a great place to visit all year round. However, the best time to go is from September to March, when you can see the most wildlife.
The Narus Valley is especially popular with animals during this time, as they congregate there in search of water. April and May are the wettest months in the area, so it's best to avoid visiting the park then.
The busiest months are September, October, November, and March, when the weather is pleasant. December to February can be quite hot and dusty.
Where to stay in Kidepo National Park
Kidepo National Park, like many other places, has a range of hotel options, from luxury to budget. Here are some of our favorites:
Luxury safari Lodge– Apoka safari Lodge
Mid-range– Kidepo Savannah Lodge
Budget– Apoka Rest Camp
……………………………………………………….
Why you should visit Uganda's Kidepo National Park
Kidepo is an excellent destination for travelers who want to experience the wild side of Africa. It's one of the few places in Uganda that offers a variety of wildlife, including elephants and lions. This park also provides travelers with great opportunities to see birds from various parts of the world, such as the storks.
If you're interested in learning more about this park or planning your trip, please don't hesitate to contact us at +256-755-180551. We'll be happy to help you out.